What is Meant by Biopreferred  
Biobased product, was defined by the United States Secretary of Agriculture in the Farm Security and Rural Investment Act of 2002 as follows, "The term ''biobased product'' means a product determined by the Secretary to be a commercial or industrial product (other than food or feed) that is composed, in whole or in significant art, of biological products or renewable domestic agricultural materials (including plant, animal, and marine materials) or forestry materials.
BEG Group LLC announced that it has earned the U.S. Department of Agriculture (USDA) Certified Biobased Product label. BEG Group products are able to display a unique USDA label that highlights its percentage of biobased content. (Phalanx Bio Switch® has a biobased content of 100%) Third-Party accredited verification for a product's biobased content is administered through the USDA BioPreferred Program, an initiative created by the 2002 Farm Bill (and most recently expanded by the 2014 Farm Bill). One of the goals of the BioPreferred Program is to increase the development, purchase and use of biobased products. The USDA certified Biobased Product label displays a product's biobased content, which is the portion of a product that comes from a renewable source, such as plant, animal, marine, or forestry feed stocks. Biobased products are cost - comparative, readily available, and perform as well as or better than their conventional counterparts.
"We applaud BEG Group LLC for earning the USDA Certified Biobased Product label," said Kate Lewis, USDA BioPreferred Program. "Products from BEG Group LLC are contributing to an ever-expanding marketplace that adds value to renewable agriculture commodities and creates jobs in rural communities."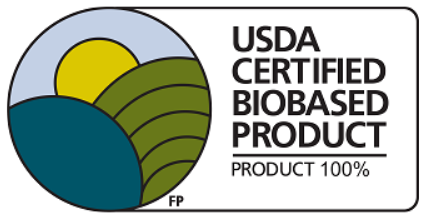 The Big Switch ®, our trade named product in Class 11, and Big Switch ®, our trade named product in Class 19, have also undergone the same accredited testing and is now able to display the same unique USDA label that highlights its 100% biobased content.
The increased development, purchase, and use of biobased/biopreferred products such as those offered by BEG Group LLC reduces reliance on petroleum, increases the use of renewable agricultural resources, and contributes to reducing adverse environmental and health impacts.  
Remember--It is all about the biobased content and not the containment devise used to hold said biobased content!